Eric Jackson
Details of talks given by Eric Jackson
---
Region:

Yorkshire & Humber

Notice Period:

Emergency (maybe less than one week's notice)

Type:

Local and family historian

Biography:

I've a life-long interest in history, especially local and social history, the kind that relates to real people and I love sharing my passion with others. I've been actively engaged in family and local history for over thirty years and have written many articles for various publications on some of the subjects of my talks. I am a former trustee of the Federation of Family History Societies; a trustee of the Pontefract & Ackworth Almshouse Charity and secretary of the Pontefract & District Family History Society. Until 2016 I had been a magistrate for twenty four years and I have a keen interest in the history of the office of Justice of the Peace. I enjoy travel, meeting new people, helping them in their research and talking to them about subjects that interest me, and which hopefully they will also find interesting. All my talks are accompanied by extensive Power Point presentations and I have my own computer, projector, extension lead and screen, all you have to provide is a table and a 3 pin socket outlet. All my electrical equipment is PAT approved.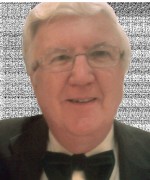 To contact Eric Jackson select a talk listed below.
Listed talks