Gay Evans
Details of talks given by Gay Evans
---
Organisation:

the curious past

Region:

East Midlands

Notice Period:

Emergency (maybe less than one week's notice)

Type:

Hobby

Biography:

I have been carrying out genealogical/family history research for over 30 years. During that time I have developed several talks, on Derby County Asylum, Annoying Ancestors, Australian Gold Rush etc plus quizzes based on vintage household items. The household quizzes are not the usual question based quiz but participants actually get to handle the vintage items whilst trying to determine what they are. This usually ensures that there is plenty of chatter and reminiscing.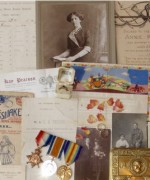 To contact Gay Evans select a talk listed below.
Listed talks