Gareth Howell
Details of talks given by Gareth Howell
---
Region:

East Midlands

Notice Period:

Emergency (maybe less than one week's notice)

Type:

Professional

Biography:

I regularly appear on BBC Radio Nottingham as an historical adviser, most notably as the military historian when Armed Forces Day was hosted at Nottingham. I have also spoken on BBC Notts on topics as diverse as Richard 3rd, the tanks, the home guard and the Easter Rising (for which I also appeared on a programme with BBC Ulster). I am also a regular guest speaker for Abingdon Museum in Oxfordshire, the British Biomedical Institute, Buxton Museum and various Rotary clubs. I have done some TV work for BBC Ulster and for Channel 4. If you have a particular interest for a history talk that's not on the list, feel free to ask if I'd be able to field a talk on the subject, after all the worst I could say is no!

I am a confident and engaging speaker after many years teaching in a Nottingham Secondary school.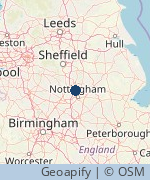 To contact Gareth Howell select a talk listed below.
Listed talks