Simon Waterfield
Details of talks given by Simon Waterfield
---
Organisation:

Historical Interpretation

Region:

Anywhere

Notice Period:

Regular (more than one month's notice)

Type:

Professional

Biography:

Simon researches and writes monologues about events and people in history and performs his stories as a monologue in character in the first person. Using his experiences as re-enactor, actor, and drawing on family history, Simon has developed his monologues to illustrate how great historical events are seen from an ordinary person's point of view. They are performed in costume of the time, and he brings items of a historical nature, to support the talk. There are a variety of characters ranging from a C7 welsh Saint to a WW1 soldier. Details, including photos and clients comments can be found on the website. www.historicalinterpretation.co.uk I am based in S E London but am willing to travel, subject to agreement on expenses. My clients include WIs, U3A, English Heritage, National Trust, museums, Historical events organisers, historic houses.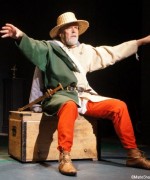 To contact Simon Waterfield select a talk listed below.
Listed talks