Fiona Mansfield
Details of talks given by Fiona Mansfield
---
Region:

South East

Notice Period:

Short (maybe less than one month's notice)

Type:

Hobby, nature, science

Biography:

As a child growing up on a farm in Sussex I developed a passion for nature and the environment. After leaving school I went on to study for a BSc in Environmental Biology, followed by a PhD in Ecology. Since then I have spent 17 years as a Biology teacher inspiring the next generation to develop a life-long love of learning and biology. I currently continue to teach part time and run my own gardening business, with a strong focus on sustainability and wildlife gardening.

Many British wildlife species are in decline as they come under increasing pressure from habitat loss, climate change and intensive methods of agriculture, including the use of pesticides.

Hobby and amateur gardeners as well as allotment holders are a vital part of the conservation landscape and small changes in the way we garden can have huge impacts on our local biodiversity and the overall health of our gardens and wildlife populations.

My aim is to change the way we garden as a nation - one garden at a time. Let me show you some quick and simple ways you can make a difference.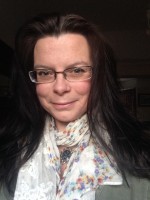 To contact Fiona Mansfield select a talk listed below.
Listed talks