Glenn Parker
Details of talks given by Glenn Parker
---
Region:

Anywhere

Notice Period:

Short (maybe less than one month's notice)

Type:

Professional Motivational Speaker and Charity.

Biography:

My name is Glenn Parker and I am a Professional Motivational Speaker, Senior Personal Trainer and a Speaker for the Charity Help For Heroes.

I am an ex soldier from the Parachute Regiment who was assaulted when I was 18 years old. I was termed the 'walking miracle' by the doctors, recovered and now a senior Personal Trainer with UPfitness with my own speaking company.

During my time with UPFitness, I performed a fitness transformation in 15 weeks that went worldwide and become arguably the most famous fitness transformation in the world. It still is today. (Even in the British Airways, in-flight magazine) I perform inspirational speaking for the charity Help For Heroes, where I travel the country giving talks all about my dark times, my fitness transformation and what's happening now.

I am a fundraiser and with two events have raised just under £30,000 for the charity! Also, Southern representative for the H4H Tough Events Team.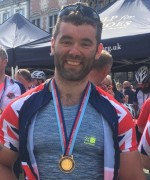 To contact Glenn Parker select a talk listed below.
Listed talks